market
March 07, 2019
What is a character that is getting used to kids now? ~ "Approaching" Doraemon "" Sumiko Gouge "! "GeGeGe no Kitaro" & "Pingu" adults also have a good deal of popularity soaring ~
Solutions Business Department Data Design Department

Aya Hanaki
Takuji
■ Chosen by children, Popular Character Rankings 2018
Let's take a closer look at the characters whose favorability has gone up from 2017 to 2018
■ Looking at boys by school age in detail
■ Looking at girls by school age in detail
Children choose, popular character ranking 2018
Although it may not be well-known (?), Our company examines characters about children aged 3 to 12 every year, and about children's preferences and everyday life "Kids / ex(Kids Ex) "is carried out.
In this survey, in addition to the recognition and favorability of more than 150 characters, we are investigating various possibilities, including the possession of goods and the intention of buying parents, from those of the past year to those that have recently gained popularity.
This time, I tried the top 10 ranking of "favorite character" ranking top item whose subjects are most likely to be interested from the latest data.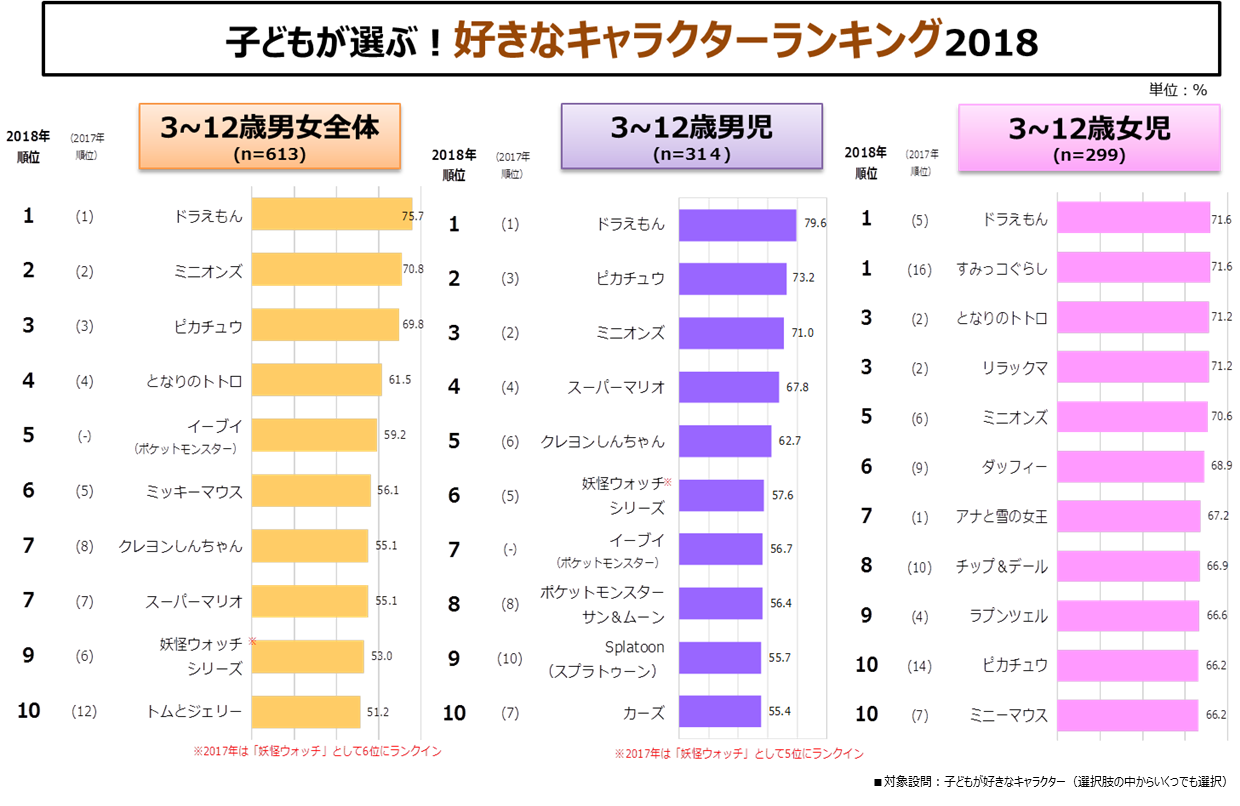 【Click to enlarge image】
From 3 to 12 year old men and women as a whole, TOP 3 did not fluctuate from last year, and resulted in 1st place "Doraemon", 2nd place "Minions", 3rd place "Pikachu".
By gender, it is clear that there are many game characters including boys in Pokemon and girls are many ranked in Disney characters overall.
Moreover, compared with the previous year, boys did not see a big change from the previous year, but in girls "Sumiko guru" ranked first from 16th place in the previous year (same rate as Doraemon) rapidly! "Sumiko Gurushi" handled by Sanex Corporation, familiar with "Rilakkuma", also specialty shop "Sumiko Gouge shop" also increased, and at the end of 18 the original examination examination of "Sumiko gouge test" is Tokyo · Osaka It is felt momentum in popularity, such as being held in. That result was supported by this survey data as well.


Let's take a closer look at the characters whose favorability has increased in 2017 → 2018
Some of those who work for companies will be worried that "If you collaborate with your products, which character is better?" Where you saw "favorite character" TOP 10 in the previous section, next will look at the trend of "popular character" like "Sumiko Gurasu".
The following is a ranking of the character TOP 5 whose score of "favorite character" rose greatly in 2018 compared with 2017.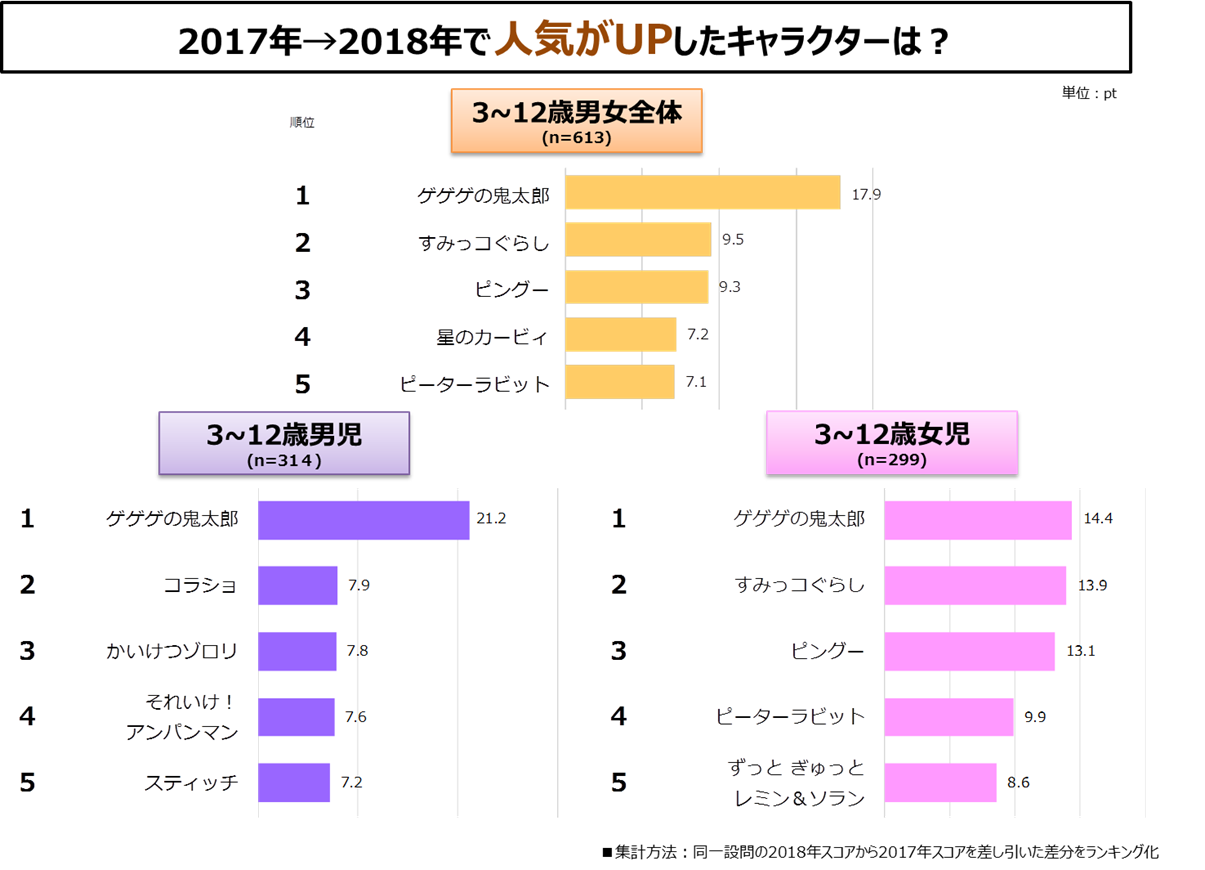 【Click to enlarge image】
I wonder if there are also many who were surprised. What a ranking place is the work of Shimizu Mizuki familiar to all men and women born in the Showa era, "Gegege no Kitaro" What!
This result seems to be "you can easily imagine it" from the person who has a little child, TV program has been broadcasting from Fuji TV on Sunday morning at 9 o'clock in April 2018, and a child wicked also continues among kids It seems to be. It is thought that being the television broadcasting from October 2017 in NHK E TELE, "Pingu" of male and female, third place of girls is considered to be a factor of rank in.
Also, "Peter Rabbit" of the 5th place of male and female and 4th place of girls was published in live-action movies in May 2018, and the second birth "Koraso" (Benesse "Shinkenzemi elementary course" image character) By showing that the first animated movie will be released on the moon, we are showing excitement for the birth anniversary. Looking at this way, you can see that the response from terrestrial TV and movies is very large.
Looking at boys by school age in detail
Children's interests change greatly depending on their age. Let's deepen further, let's see the character TOP 5 where the score of "favorite character" rose sharply in 2018 compared to 2017 in this time by school age.

【Click to enlarge image】
"Sumiko Gurasu" is ranked in second place in preschool children. Girls are highly popular "Sumiko Gurasaku", but it seems that popularity is increasing for both men and women, from the looks of healing systems to young children.
In pursuit of school age, in elementary school lower grade, "Colorsho" which is an image character of Shinkenzemi elementary course, "Teikokori Zorori" under TV broadcasting at TOKYO MX in middle school year, "Venom" of rival character in the upper grades are the protagonists The spiderman, which is a remembrance of the big hit of the movie "Venom", made a ranking in the top rank, and the difference in preference has been reflected dramatically.
Looking at the girls by school age in detail

【Click to enlarge image】
Both pre-school children and elementary school first graders are "Sumiko Gouge". There will be many readers who felt that this is also "nostalgic", "Moronoba", who ranked first in the second grade. More than 30 years ago, Moronbo started with manga in 1986 was animated in 1995, and TV broadcasting started again in Fuji TV since 2016. From the end of 2017 to 2018, events such as collaborative goods shops and cafe openings are also being held and the popularity seems to be rekindling.
"Ranking panda" (Rakuten's image character) is ranked in 3rd grade and 4th grade. Looking at the ranking of high school age, "Usamusu" which creator's stamp is very popular is also in second place, and as the use of smaho gets increasing, as the age gradually increases, the character which is liked by the influence of LINE is changing It seems possible to think.
How was it.
In this issue we introduced the results of the survey that spotted "favorite character", but "Kids / exIn addition, we are investigating detailed information on various children. Those who want more refined child-related marketing, those who are interested please feel freeInquiriesPlease give me.
■ Data Source: Video Research Survey on Children's Life and Characters "Kids / ex"
 (2017年/2018年10月実施) 
■調査対象者:男女3-12歳(父母または父母代行者の代理回答) 
■ Target area: Tokyo 50 km
■ Survey method: Survey by electronic questionnaire

【Introduction of "Kids / ex" analysis case】
Having a parent like a friend, the child wants a "private room"! What? ~ I tried exploring the influence of parent-child relationship on children's hobbies / preferences ~
Share this article